Tips for the whole family to enjoy the great outdoors this winter – even when it's cold!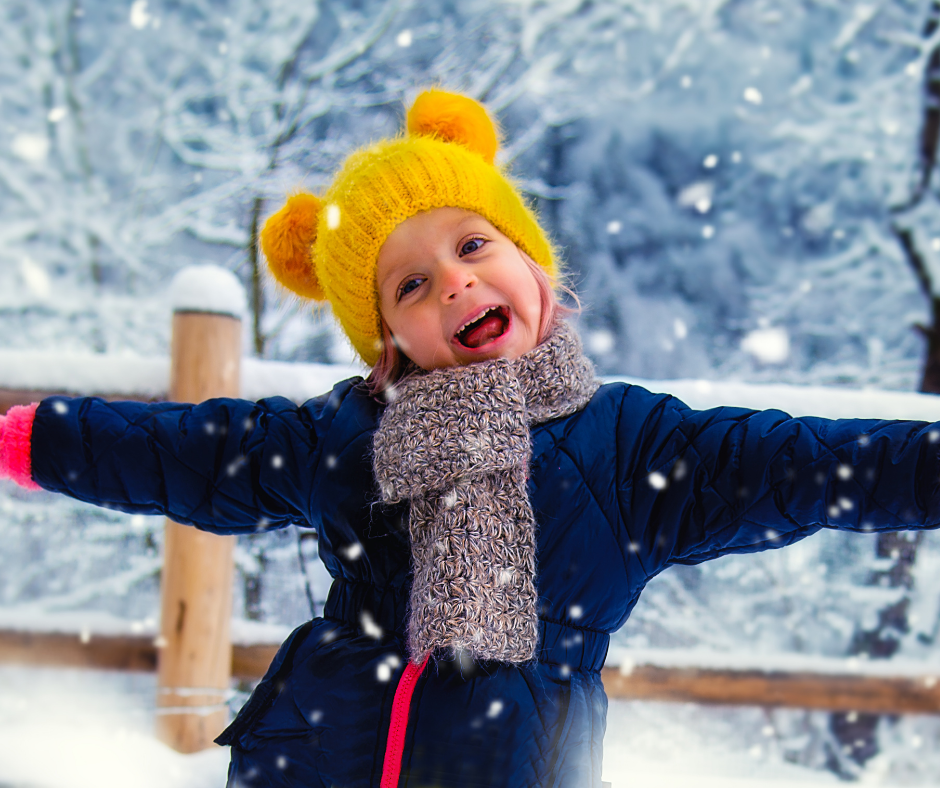 Baby it's cold outside!
But with play gyms, restaurants and our usual cold weather go-tos currently closed in Calderdale, most of us are spending more time outdoors.
My kids take some convincing before they will surrender themselves to the elements, so we've asked some seasoned cold weather mamas for their top tips on enjoying the great outdoors during the winter.
Here's what they said:
(Also, here is where you can find lots of Christmas lights, nativity and window trails in Calderdale)
Take something fun with you: "my oldest has a little action camera that she likes to take with her to make dramatic videos, jumping out from behind trees and pretending she is searching for monsters. It straps on to her bike and scooter too so she can make action videos. Her cousins like to take their Dr Who sonic screwdrivers with them."
Snacks, snacks and more snacks: "I always have something for them to eat, in case I need to tempt them up a hill or their energy starts to flag. Usually easy things like sandwiches, bread sticks, cheese strings, crackers, bananas (although they can get a bit squishy in bags), crisps." 
Invest in proper gear: "There's no such thing as bad weather, only bad clothing. Being outdoors in the cold is much more enjoyable when you are dressed properly for it! I run in the cold and having wool socks, gloves, layers, etc, make it a lot more bearable."
Make the bad weather fun: "Some of our best walks are when it's raining and muddy. The kids like to splash through the puddles and running streams of water on hills. We found a street we name Puddle Lane because there are always epic puddles."
Take gloves and hats, even if they don't want to wear them: "No one ever wants to put their gloves on at the start, but half way round and they're all grateful when I pull them out of the backpack. I take gloves and hats regardless of what they say at the start, and keep them in a plastic bag so they don't get wet from leaking water bottles or the weather."
Patio heaters and outdoor theatres: "We have a fire pit and a large patio heater powered by a tank of propane in our garden. We also have an outdoor movie theatre set up. We just did it for Halloween with the kids sitting on a tarp with lots of blankets, bundled in lots of gear, and near the fire and heater. The outdoor screen is great for sports or chick flicks around the fire as well."
Take a hot drink: "I always take a hot flask of tea with me (I have a Contigo and it doesn't spill or leak) when we're outside, and sometimes hot chocolate for the kids too. It's really nice to have a warming sip every few minutes."
Pack torches: "If you're going out late afternoon, taking a few torches makes it a real adventure for the kids!" 
Take handwarmers or hot water bottles: "If it's really cold, we sometimes have hot water bottles in the car for when we get back. I like to stash a pack of handwarmers in my bag too, in case their gloves get wet and their hands are cold. They are brilliant on camping trips and are useful on walks too." 
15 Outdoor Activities for Kids in the Winter
If going for a walk won't tempt your little ones outside, here are some fun activities to make fresh (cold!) air seem more appealing.
Winter scavenger hunt
Geocaching – this is a great one for older kids too!
Look for animal tracks in the mud or snow
Have a winter picnic – you might not want to sit and savour every mouthful like you do in the summer, but it's a great warm-up activity during a walk. Make everything warm and cosy like flasks of soup, hot chocolate or coffee, warm sausage rolls (wrap them in foil to keep in the heat), or hot dogs in a flask. Take extra blankets!
Star gazing –  it gets darker earlier in winter, so little ones don't have to stay up late!
Make nature confetti by stamping shapes out of leaves with hole punches
Build a nest! Collect twigs, leaves, grass, feathers, etch while on a nature walk then try and make a birds nest. You'll need to make a circular shape, and make sure the inside is nice and comfortable. A great activity to teach little ones about birds and how intricate nests actually are.
Collect some rocks then paint them in your garden
Build an outdoor fort
Have a candy cane hunt! Hide them around your garden (tree branches, flower pots, etc) and let the kids find (then eat!) them all
Photography challenge – give the children a list of things to find and take pictures of, such as berries, holly leaves, puddle, etc.
Play tig with torches – you'll have to play this at dusk or when it's dark (and somewhere safe like your garden), but the person who is "on" has a torch and tries to find everyone else who is hiding by shining it on them. When you're lit up, you're out.
Show garden wildlife some love by making a bird feeder, putting out some fresh water for animals to drink and making a bug hotel
Take an eggbox (or a match box, depending on how challenging you want to make it) on a walk and ask your child to fill it with interesting things from nature that they find along the way
Decorate an outdoor tree – make a tree or bush in your garden look festive by decorating it for Christmas
Need more tips for getting outside?
Try our family-friendly walks in Calderdale, walks with natural shelter in and around Calderdale, the best parks and playgrounds in Calderdale, and getting kids outdoors in the winter.
For more local news, join the Calderdale Mumbler Chat Group, and like the Calderdale News Page.