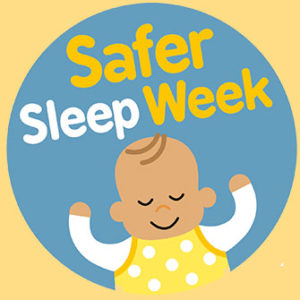 It's #safersleepweek and this year, the focus is on co-sleeping.
Sadly, four babies die every week from SIDS and unsafe co-sleeping is certainly a factor. But with greater awareness and more information, we can work together to reduce this number.
As someone who was absolutely adamant I wouldn't co-sleep, I never expected that all three of my children would end up in my bed.
It started pretty much as soon as I left hospital with my first. I put her in the moses basket, but she wouldn't settle unless she was on my chest. I didn't feel safe sitting on the sofa all night with her – and statistics show babies are at a 50% increased risk of SIDS if parents sleep with them on a sofa – so I admitted defeat and brought her into our bed.
It was a bone of contention between my husband and I, as he was extremely opposed to co-sleeping. Yet neither of us could get her to settle in her crib, and we didn't feel comfortable with letting her cry.
Neither of us smoke or drink alcohol, and we kept all bedding well away from her, to make it as safe as we could.
I found that my body naturally curled around her to protect her, and being able to breastfeed lying down helped us all get more sleep. But still, I did worry whether we were doing the right thing when she was very small. And I didn't know anyone else who co-slept – although I definitely do now.
Our family doctor reminded me not to co-sleep if I had taken medication, and I ditched my pillows and duvet, using warmer pyjamas for me, and a sleep sack for her.
Our daughter stayed in our bed until I was pregnant with my second child, when we transitioned her into a floor bed in her own room. One of us would lie down with her to help her sleep, but she spent most of the night alone.
The pattern continued when our son was born – despite us trying to break it – and again with  our youngest last year. This time we tried a co-sleeper attached to our bed, and that definitely helped create a safer space of her own for her to sleep in, while feeling the warmth and comfort of me nearby. To be honest, during those first few weeks I was so tired from looking after three children and taking pain killers from the c-section, that I wouldn't have trusted myself to have the baby in our bed anyway. The co-sleeper gave me – and especially my husband – greater peace of mind knowing she had her own space, although after a few months she too wanted to be in the bed with us. Now she's mobile, I transfer her into her crib once she's asleep to ensure she can't crawl off the bed, and bring her in with me when she wakes for a feed.
I absolutely understand co-sleeping is not for everyone but it worked for our family and I love snuggling with my babies in the night.
Safe sleep is so very important and I love that this campaign is focusing on safer co-sleeping. It will help so many families have access to information and help them to make their own informed decisions, reducing hazardous co-sleeping situations.
KEY ADVICE FOR SAFER CO-SLEEPING
From Lullaby Trust, Public Health England, Unicef UK Baby Friendly and Basis)give some key advice for safer co-sleeping [source Lullaby Trust]
Keep the space around your baby clear of pillows and duvets
Always sleep your baby on their back
Avoid letting pets or other children in the bed
Make sure your baby cannot fall out of bed or become trapped between the mattress and wall
Never leave baby alone in the bed
You should never sleep with your baby on a sofa or armchair, this increases the risk of SIDS by 50 times.
It is important to know there are some circumstances where it is dangerous to share a bed with your baby. You should not co-sleep if:
Either you or anyone in the bed smokes (even if you do not smoke in the bedroom)
Either you or anyone in the bed has recently drunk any alcohol
You or anyone in the bed has taken any drugs that make you feel sleepy
Your baby was born prematurely (before 37 weeks of pregnancy) or weighed under 2.5kg or 5½lbs when they were born
They have also produced a great infographic to summarise these points
For more advice on safer sleep for your baby, download the free guide from the Lullaby Trust
If you have any top tips for safe co-sleeping please do share them on the Calderdale Mumbler facebook group.