Are the kids eating you out of house and home during lockdown? Mine certainly are. They are confusing boredom with hunger and wanting all of the snacks all of the time!
So we put out heads together to find a few ideas to keep snack time interesting, and some snack foods to keep those tummies full for longer.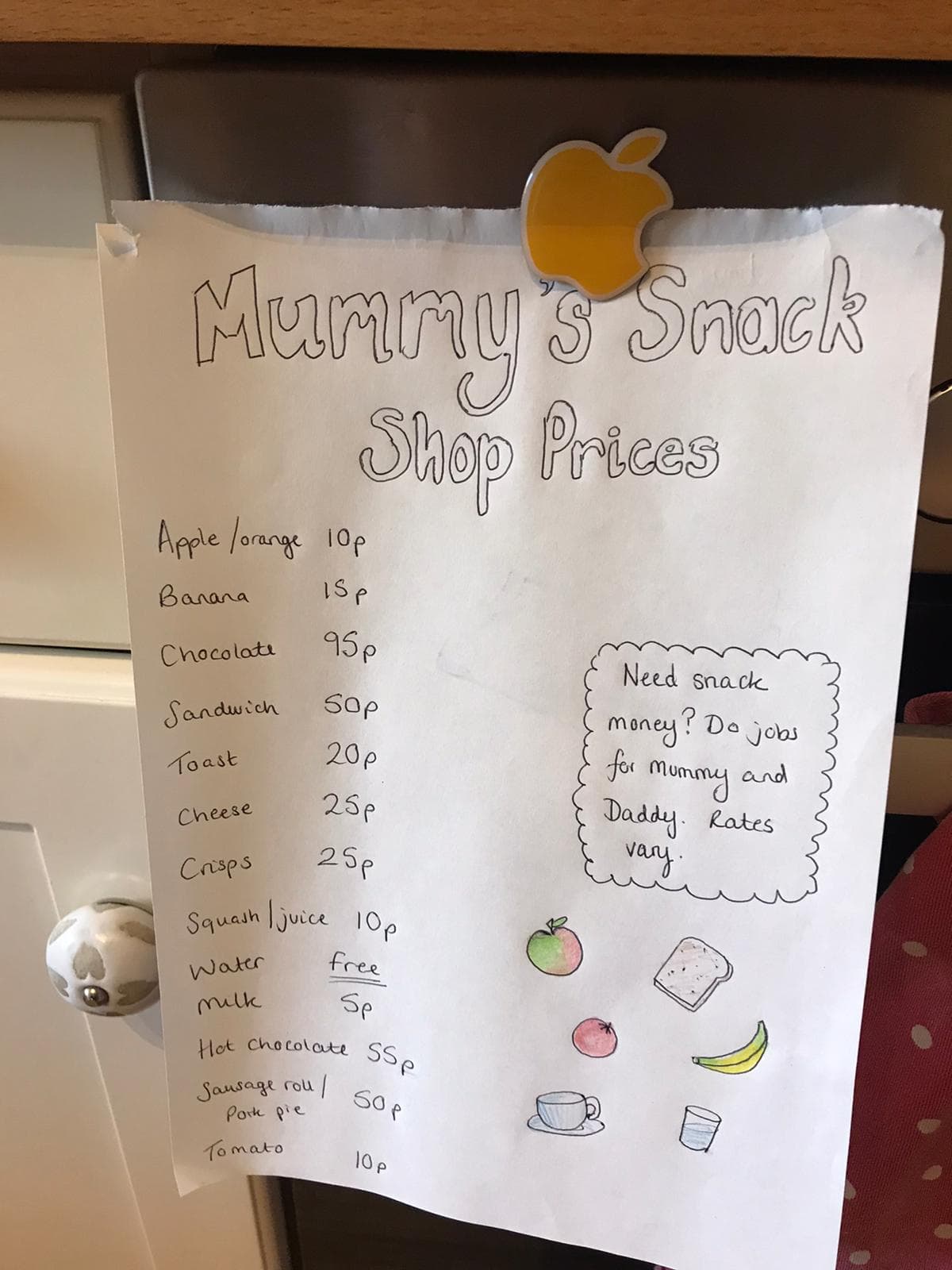 Daily Snack Shop
We started a tuck shop back in Lockdown 1 (way back when I still had energy!). I gave them some change, set prices for each snack (healthy snacks were the cheapest and junky stuff cost the most) and they had to work out the cost and change they were due.  I much prefer this idea though, where the kids earn snack money by doing little jobs about the house.
Daily Snack Box
Another friend sets the kids' snacks out each morning. They can eat them at any point throughout the day – as long as it's not right before lunch or tea. Once they're gone, they're gone!
Per child, she includes: one piece of fruit, one treat (biscuit, crisps or fruit winder etc) and one portion of veg such as carrot or cucumber sticks.  She's also added things they haven't tried before, such as dried apricots (which went down a storm) and hummus and breadsticks (which weren't such a hit!)
Without doubt, my kids will try all they can to get treats rather than snacks, and they're persistent to a fault.
But here are some things that have worked for us, and a few ideas from friends.
Popcorn (we have it plain and cook it in the microwave in a paper bag – about 3 mins 30 seconds – but you could add icing sugar or butter once cooked)
Dried fruit (mango and raisins are both favourites)
Yoghurt – the tube yoghurts worked especially well for us and the kids loved the little joke on the packet. Try freezing them to make them more of a treat!
Mini quiche. You can make these in cupcake baking trays with or without pastry
Energy balls – these are jam-packed with nutrients and my kids can't stop sneaking them from the fridge. We use this recipe from My Fussy Eater and I throw in chia seeds too.
Chicken bites
Hummus and breadsticks
Apple slices with peanut butter
Banana bites (sliced, frozen banana)
Two ingredient cookies – mash a ripe banana and stir in a cup of oats then shape into balls and flatten on a baking sheet. Bake for about 15 minutes. We add a pinch of cinnamon and sometimes chocolate chips too. None of them have been able to detect when I've thrown in a tablespoon of ground flax seeds either.
Fruit kebabs – I cannot believe how enthusiastic my kids were about fruit on a stick compared to fruit in a bowl!
Scotch eggs
Cocktail sausages
Boiled eggs
Cream cheese and cucumber sticks
Olives
Savoury muffins, you can add any veg you have, even frozen veg
Vegetable sticks – sugar snap peas, carrots, cucumbers and peppers work well for us. Not all of the kids like all of the veggies though.
Hot ham wraps – I make quesadillas with mini wraps, ham slices and cheese. I cut them into triangles and they're a great lunch or finger food while they're working.
Healthy granola bars – this is another My Fussy Eater recipe but the whole family DEVOURS it! Melt 100g smooth peanut butter, 100g honey and 50g butter or coconut oil. Stir 125g oats with 25g puffed rice cereal into a large bowl and pour the melted mixture over the top, then stir until combined. Once cool, stir in 25g chocolate chips and pour into a lined 20cm square baking dish. Use the back of a spoon to press it down firmly then put into the freezer for 30 minutes. Cut into squares and serve.
Rice cakes
Pretzels
Cheese cubes, strings or Babybels
Nuts (for children old enough). We love pistachios and peanuts.
Dough balls – these take a bit of thinking ahead, but each step is fairly quick and the kids devour them. We use the Pizza Express recipe.
Rice pudding or custard
Corn on the cob – I cook one and chop it into three snack-size portions
Wraps – we buy mini wraps and the kids love to roll them up with a slice of ham
Mini croissants, bought in a bag from the supermarket
We hope this helps satisfy those little (HUGE) appetites!
For more useful tips and fun ideas for coping during lockdown, visit our At Home With Kids page, jam-packed with useful information and resources. 
Daily Schedule Suggestion for Homeschooling